---
Gastfreundschaft im Mecklenburger Schloss
---
Seit Jahrhunderten war Gamehl ein Ort der Begegnung, ein Ort der Gastfreundschaft und ein Ort der Inspiration.
Für private Feiern und Hochzeiten gehört Ihnen im Schlossherrenarrangement das ganze Haus exklusiv - einmal Schlossherr sein.
Vor den Toren Wismars gelegen, können Sie von Gamehl aus ganz Mecklenburg und die Ostseeregion entdecken, die Hansestädte Schwerin und Rostock sind in der Nähe; Hamburg und Lübeck sind mit ihren zahlreichen Attraktionen innerhalb einer Stunde erreichbar. Genießen Sie die nahegelegenen Ostseestrände der Insel Poel, die Bäderarchitektur von Kühlungsborn oder "die weiße Stadt am Meer" Heiligendamm.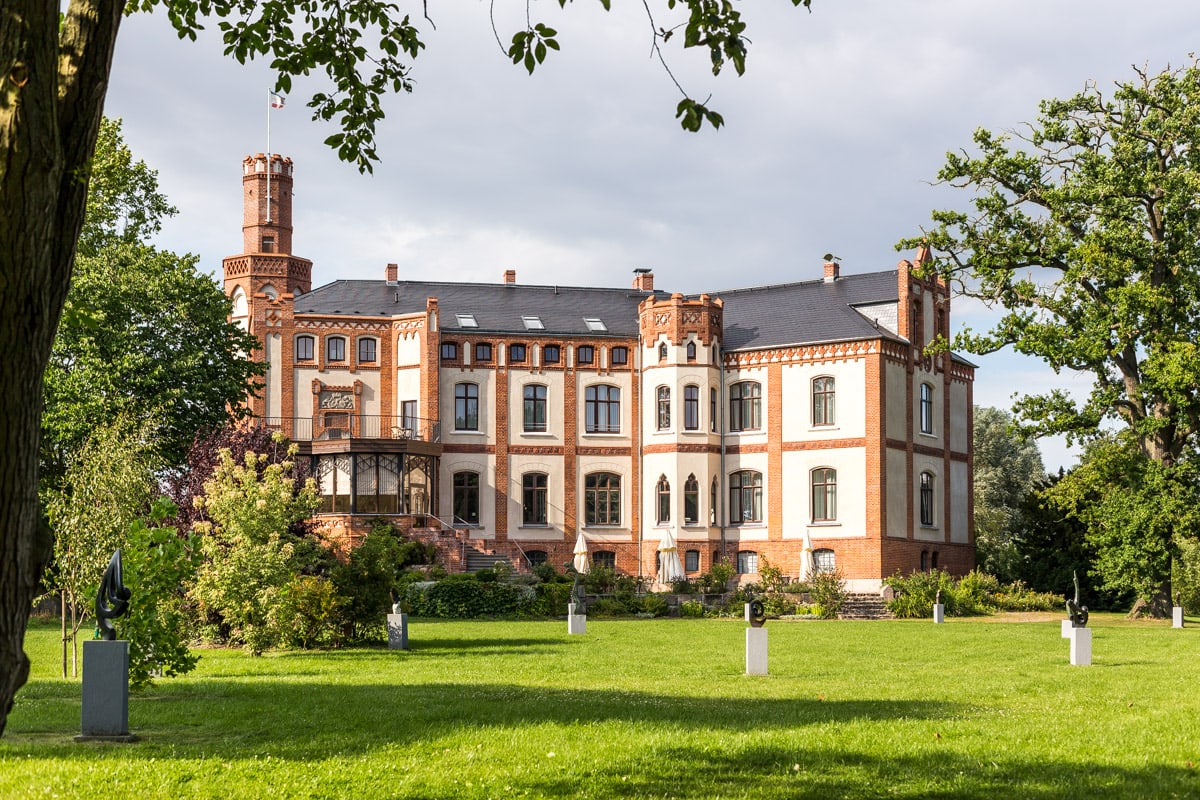 Warm Hospitality in a Real Mecklenburg Castle
---
Gamehl has been a meeting place, a location of warm hospitality, and an inspirational destination for centuries.
When booking the hotel for a private party or wedding, the entire house is exclusively yours – be the lord of the manor for once.
Situated on the outskirts of Wismar, you can discover the entire Mecklenburg and Baltic Sea region from Gamehl – the Hanseatic cities of Schwerin and Rostock are just around the corner and Hamburg and Lübeck, with their numerous attractions, are only about an hour away. Enjoy the nearby Baltic Sea beaches on the island of Poel, the spa architecture of Kühlungsborn, or pay a visit to Heiligendamm, known as "the white city by the sea.".
---
The present-day manor house was built in 1860 by the great-grandfather of owners Georg von Wallis and Dagmar von Stralendorff-von Wallis in the neo-Gothic style. Large parts of the original estate, designed by the Wismar-based architect H.G. Thormann, were destroyed in the years following the property's expropriation in 1945 or otherwise fell into disrepair.)
After buying back the property in the year 2000, the manor house was completely renovated and converted into a small, charming country hotel with 19 individually furnished rooms and suites. All of the bathrooms are equipped with a shower and/or bathtub and pleasant underfloor heating. The library in the Red Salon, the restaurant offering fine dining in the Great Hall, the conservatory, and the large south-facing terrace in the adjoining park have all been restored based on the original designs. The cozy spa area offers a selection of fitness equipment, two saunas, and numerous massage services.
Browse our attractive package offers on this page or contact us by email at info@schloss-gamehl.de or by phone at +49(0)38426 22000.
An Enchanting Country Outing
Tranquility and Relaxation at Gamehl Castle in Mecklenburg
---
You can look forward to:
Two nights in a room in the manor house
Daily breakfast fit for the lord of the manor
A gourmet culinary journey on one evening in the form of a three-course meal
Daily coffee service with homemade cake & coffee/tea
One carriage ride around Gamehl Castle
Free Wi-Fi – available throughout the entire building
One bottle of Güstower Schlossquell water in your room
Unlimited use of our sauna and gym area during opening hours, subject to availability
Your personal bathrobe for the duration of your stay
Free parking
---
Package Price: €225.00 per person
---
Arrival on any day of the week possible
+ €10 per night on the weekend (Fri/Sat)
+ €30 per person for a suite in the manor house
+ €60 per day for single occupancy
+ €30 per person during high season (April 1 – October 3, 2021)
---
For reservations, please contact:
---
Email: info@schloss-gamehl.de
---
This offer is only valid upon request. Subject to availability and confirmation during the offer period. Arrival on any day of the week except Monday possible. A deposit of 50% of the booked package price is due upon booking. Written cancellations are possible free of charge up until 3 p.m. on the 8th day prior to arrival. After that, a charge of 80% of the booked package price will apply.